Recently, the Confessing Baptists linked up to a blog from John Samson who in turn introduces us to an excerpt from Dr. James White's book Is the Mormon My Brother? After commenting on that post, they asked me if I wanted to write an alternative view. So I'm doing that here.

The excerpt focused on Jesus' citation of Psalm 82:6 in John 10:34. The words in John 10:34 are, "'I said, you are gods'?" (ESV). The part of the verse cited by Jesus in the Psalm reads, "I said, 'You are gods...'" (ESV). Mormons use this verse to prove two things: 1. A plurality of gods; 2.Their own future participation as in heaven as gods according to the famous dictum by the fifth president of the Latter Day Saints—Lorenzo Snow—who infamously said, "As man is, God once was; as God is, man may become."1
According to Samson, a main reason to be a Reformed Christian is that, "When the Biblical text is left to speak for itself, within its own context, the truth is clearly seen." I wholeheartedly concur. And yet, rather than taking the view of Psalm 82:6 that sees these "gods" as human rulers, thereby finding no point of contact with the Mormon, I take a very different view that sees the Mormon as half-wrong and half-right, though on the point where he is half-right he is also half wrong. Well, that's as clear as mud, so let me explain.
The Mormon is all-wrong to believe that God was ever a man (Jesus became a man, but that isn't what a Mormon means). He is also all-wrong (and there is confusion on this point in Mormonism) if he believes that man will ever become God.2  The Mormon is correct, however, to see a plurality of gods in the Bible. However, the Mormon takes this in a way that is contrary to historic Christianity (and early Judaism by the way) at an essential point. Historic Christianity has affirmed a plurality of gods while simultaneously maintaining that God is completely, totally distinct from other gods in that He—the only uncreated, eternal God—created them, rules them, and is always sovereign over them.
Unfortunately, before I can turn to Psalm 82, I have to address something first. Perhaps the major hang up many have before ever coming to Psalm 82 is a presupposition about "gods." Some believe that "gods" are "idols," and therefore have no real existence. Others think you can't have other "gods" except in the context of polytheism. The first is easily disproven by the fact that God commands gods to worship him; but imaginary friends, Disney characters, and comic book superheroes don't worship anything. "Worship Him, all you gods" (Ps 97:7; cf. Ps 29:1-2; 148:1-5; Neh 9:6). "Indeed there are many gods" (1 Cor 8:5), the Apostle says. There is a very real reason why the First Commandment tells us not to have other gods before the LORD. It isn't talking about idolatry; that's the Second Commandment. Other gods exist.
But what are these "gods?" The Hebrew term is elohim, the same word that is often used to describe God in the Bible. In the OT, elohim includes demons (Deut 32:17), angels (cf. Deut 32:43 Hebrew with the Septuagint), the "sons of God" (Ps 82:1, 6), and even the deceased Samuel, (though not in a way a Mormon would understand it; see 1 Sam 28:13-14). Demons and angels are, of course, real. But they are not on par ontologically (that is in their essence or being) with Yahweh. He created them. They exist for his pleasure and by the power of his word. They do not usurp him, depose him, or in any other way thwart his sovereign purposes.3
Thus, the term elohim does not describe a unique set of attributes of Yahweh. It simply describes a place of residence, as Dr. Michael Heiser has explained.4  All elohim reside in the spirit-world. If you want to know what kind of an Elohim God is, look to his names. They tell you all you need to know. As you can see, there is nothing here, other than our modern concept of the term G-O-D that demands that "many gods = polytheism."5  The simple fact is, our Scripture uses the term elohim to describe many types of beings, in both Testaments, many times. These beings do not necessitate a Mormon view of the afterlife, nor do they represent some old polytheism that those nasty intertestamental Jewish scribes forget to scrub out as they were revising their Bible and changing to a monotheistic religion. All of that is nonsense.
If a person can get over this hang-up and realize that you don't have to become a Mormon or a Liberal in order to affirm that other elohim exist, then you are ready to move into Psalm 82 and John 10.
The first thing to note is the grammar of the citation. Compare the following in the ESV:
Psalm 82:6 "I said, 'You are gods...'"
John 10:34 "'I said, you are gods'?"
See the difference? Well, there is no punctuation in the Greek and yet the wording between John and the LXX (Septuagint) of Psalm 82:6 is identical (ego eipa theoi este). What would therefore justify a change in punctuation?
Psalm 82:6 has a speaker telling someone else, "You are gods..." John 10:34 has Jesus quoting one big lump, "I said, you are gods..." In the former there are two subjects. In the later there is only one. The way the ESV punctuates the English makes you think that Jesus is calling the Pharisees "gods," that is "human rulers," and is using Psalm 82 to prove it. Dr. White agrees with me that Jesus is referring to Psalm 82:6. Thus, what we have to do is figure out who the subjects in Psalm 82 are. To figure out what Jesus is actually saying, we have to go back to the Psalm.
Psalm 82:1 is essential to understand, and yet Dr. White shows no familiarity with the most important part of the Psalm for interpreting it correctly. Let's compare two translations:
(Psa 82:1 ESV) God has taken his place in the divine council; in the midst of the gods he holds judgment:
(Psa 82:1 NAS) God takes His stand in His own congregation; He judges in the midst of the rulers.
Notice the differences? Both have both God as the subject. This is correct. "God" here is Elohim. From there, the interpretations diverge radically. In the ESV, God takes his place in "the divine council." In the midst of "gods" (again, elohim), he holds judgment. In the NAS, God takes his place "in his own congregation." Elohim ("gods"
becomes "the rulers [of Israel]," and this is Dr. White's view. Let's unpack this a bit.
"Divine council" is the phrase ba adat-el. To the north of Israel, Ugaritic--a cousin language to Hebrew--calls it mpḫrt bn 'il (very similar), and there it always refers to the assembly of the gods.6  Not knowing about the divine council is a serious detriment to any interpretation of this passage. I have yet to see anyone in print argue that we are talking about earthly rulers who has any familiarity with the divine council. But where is this divine council?7  Is it acceptable to use the pagans at Ugarit as paralleling the Biblical idea? Is God coming to earth--to Jewish rulers--or is this scene taking place in heaven?
Psalm 89 confirms the ESV. "Let the heavens praise your wonders, O LORD, your faithfulness in the assembly of the holy ones! For who in the skies can be compared to the LORD? Who among the heavenly beings is like the LORD, a God greatly to be feared in the council of the holy ones, and awesome above all who are around him?" (Ps 89:5-7). Notice the council idea again. But where is this council? On earth? No. It is in "the heavens" and "in the skies."
"Who among the heavenly beings" is the phrase "sons of God," and this takes us back to our verse: Psalm 82:6. The ESV reads, "I said, 'You are gods, sons of the Most High, all of you...'" "Sons of the Most High" is exactly the same conceptually as "sons of God." The only difference is that instead of Elohim it uses El Elyon (Most High), a common name for Yahweh. The point is, both psalms are talking about a group called the sons of God. These sons are in heaven and existed prior to the creation of Adam and Eve. "[Where were you] when the morning stars sang together and all the sons of God shouted for joy? (Job 38:7). The context is creation. The sons of God watched God create, because they are heavenly beings, created prior to Adam and Eve.
In fact, there are ten references to "sons of God" in the OT. None of them necessitate a human interpretation. Some of them necessitate a heavenly interpretation (such as Job 1:6, 2:1, and 38:7). In Psalm 82:6, these "sons of God" are the "gods" (elohim) who are in "the divine council." One final devastating point needs to be made. Elohim is an extremely common term in the OT. It occurs over 2,000 times. In only two other places (besides Psalm 82:1, 6 and John 10:34) has anyone even tried to argue that it refers to humans. But most people do not realize that this argument was destroyed over 80 years ago in a scholarly article that demonstrates conclusively that elohim never refers to living, embodied human beings.8
Summarizing, to try to argue that elohim in this psalm refers to human beings, 1. Shows no familiarity with the divine council, 2. Does not take into consideration parallel passages such as Psalm 89, 3. Argues against the totality of the usage of elohim everywhere else in the Bible (over 2,000 times!).
We might add that the LXX translates elohim as a form of theos ("God" in Greek). At this point, we should ask ourselves a couple of questions. What possible thought would go through Jesus' mind to tell the Pharisees that they are gods (theos)? When does the Greek theos ever mean "human rulers" (any more than the Hebrew elohim)? The Pharisees want to kill Jesus for blasphemy. How does calling them all a bunch of theoi help him get out of that? If anything, it would exacerbate the problem. Of course, Jesus' citation does exacerbate this problem, but not because he is so foolish as to tell the Pharisees, "Hey guys, look. I'm a god and you are gods. I mean, that's what the Scripture says, right? Why can't we all just get along?" Rather, the Pharisees still want to kill him for blasphemy because he is claiming something much different than either a Mormon or the view represented by Dr. White are saying.9
Contrary to Dr. White, Jesus is not telling the Pharisees that they (and by implication himself) are nothing more than human rulers making bad judgments about him. This view of the "human ruler" does not take into consideration enough that Jesus is trying to justify himself to the Pharisees, not get himself off the hook by putting them on it. The context immediately after John 10:34 has Jesus justifying himself, and that's all I want you to notice here: "If he called them gods to whom the word of God came-- and Scripture cannot be broken--do you say of him whom the Father consecrated and sent into the world, 'You are blaspheming,' because I said, 'I am the Son of God'? If I am not doing the works of my Father, then do not believe me" (John 10:35-37).
Jesus' citation of the Psalm is not to judge the Pharisees as being bad judges, but to explain to them why he can rightly identify himself as "the Son of God." He isn't telling them that they are all just sons together, otherwise, they would have put down their stones, picked up their beers, and start sinking Kumbaya. "Thanks, Jesus for clarifying that. We thought you actually were claiming to be a heavenly being!"
Jesus is claiming to be one of the heavenly sons of God. That is the purpose of citing Psalm 82:6. The fact that he is one is what gives him the right to call himself a "son of God" from Psalm 82. He is the Son who "came down from heaven" and "became flesh" throughout John's Gospel. Son of God is a divine term of heavenly beings. But Jesus is more than one of the created sons of God. Rather, he is "one" with the Father! He is the Unique Son of God—the "only begotten" Son, one of a kind like no other, the one who created all other sons of God, the Eternal Uncreated Yesterday, Today, and Tomorrow. This is why they still want to kill him, even though they understand exactly what he is saying.
Dr. White raises a couple of objections from Psalm 82 itself about this idea. First, he says that it wouldn't make any sense to call a heavenly being a prince. "Nevertheless, like men you shall die, and fall like any prince" (Ps 82:7). White says, " Such is hardly the terminology one would use of divine and exalted beings!" One wonders what the angelic "prince of Persia" (Dan 10:13), "prince of Greece," prince Michael (Dan 10:20), and the "prince of the world" (John 12:31) would say about that? Also, the idea here is not that God is telling human men that they will die like men (a completely unnecessary point), but that heavenly beings will one day die like men, being cast ultimately into the lake of fire (Matt 25:41; Rev 20:10).
Some might object that earlier in Ps 82 it describes these elohim as not ruling well. If I had time, I would explain that this is exactly the task God gave to these sons of God, as he set them over the nations (Deut 4:19; 17:3; 29:26; 32:8). Remember, ruling well is exactly what Yahweh himself does throughout the Law and the Prophets, in clear contradistinction to the other gods of the nations. It is because these heavenly beings abandoned their righteousness that "the foundations of the earth are shaken" (Ps 82:5) at this pronouncement of judgment upon them now. That would hardly make sense if God were merely judging the rulers of Israel.
Finally, one last point should be made. Psalm 82 is about Christ. The last verse says, "Arise, O God, judge the earth; for you shall inherit all the nations!" (Ps 82:8). Well, this Elohim who inherits the nations is none other than the Begotten Son of the Father from Psalm 2, where in the parallels verse we read, "Ask of me, and I will make the nations your heritage, and the ends of the earth your possession. (Ps 2:8). He will rule with a rod of iron and a righteous scepter.
These are among the reasons I believe Psalm 82 is talking about heavenly beings, with Jesus Christ as the one who inherits after all the others are dispossessed of their own inheritance. Amazingly, I believe this can be a powerful apologetic to Mormons. This idea has a point of contact with Mormonism. It affirms the existence of other gods. One could even say that Christians will become co-rulers with Christ as they are hidden "In Christ," as Samuel was after he died. But this is not like the Mormon conception of the afterlife.
Once we show them that they are not completely wrong, we can go to the context of John 10 and Psalm 82 to show them that neither passage is about equating us humans with gods. Rather, it is about God pronouncing judgment upon the created elohim and then Jesus Christ becoming the one who inherits the nations, thereby demanding our allegiance and submission in repentance and faith to the Unique only-begotten Son who alone is One with the Father. That is the greatest claim that Jesus is making to the Pharisees here, and he will prove it in his death, resurrection, and ascension to the right hand of God above all heavenly or earthly powers or authorities. Any who trust in him shall be united with him in his resurrection and share as partakers and joint rulers in his Kingdom forever, without becoming God ourselves.
Footnotes:

1. Lorenzo Snow, Teachings of Lorenzo Snow, compiled by Clyde J. Williams, (Salt Lake City: Bookcraft, 1984), 1–2.
2. The difficulty here is whether the Mormon is claiming divination (becoming God) or divinization/theosis (the Early Church, Roman Catholic, and Eastern Orthodox concept that is close to Calvin's Union with Christ). Mormons seem to be claiming the former. On Theosis (along with a wrong view of Psalm 82:6) in Orthodoxy see "Theosis: Partaking of the Divine Nature," Antiochian Orthodox Christian Archdiocese of North America. 
3. Idols were never thought to actually "be" gods in the ancient world. Rather, they were universally thought to be the dwelling places of supernatural, spiritual entities. As John Frame explains, "In paganism, the relationship between the image and the god is more than merely pictorial, or even representative. Something of the sanctity of the god attaches to the image itself ... In other kinds of paganism, the relation between the image and the god ... may be thought of as a sacramental conduit of divine influence, or as a representation of the divine, in which case the image deserves reverence because of what it represents." John Frame, The Doctrine of the Christian Life (Phillipsburg, NJ: Presbyterian and Reformed, 2008), 454.
4. Michael S. Heiser, "Elohim as 'Gods' in the Old Testament," Faithlife Study Bible, John D. Barry, Michael R. Grigoni, et al. (Bellingham, WA: Logos Bible Software, 2012), p. 1.
5. See Heiser, Michael, "Monotheism, Polytheism, Monolatry, or Henotheism? Toward an Assessment of Divine Plurality in the Hebrew Bible," Faculty Publications and Presentations (2008).
6. I spend a great deal of time on all of this in my book Giants: Sons of the Gods, an introduction. 
7. In dictionaries it is defined as something like, "The heavenly host, the pantheon of divine beings who administer the affairs of the cosmos. All ancient Mediterranean cultures had some conception of a divine council. The divine council of Israelite religion, known primarily through the psalms, was distinct in important ways." ("The Divine Council," in Dictionary of the Old Testament: Wisdom, Poetry, & Writings, ed. Tremper Longman and Peter Enns, InterVarsity Press, 2008).
8. Gordon, Cyrus. "אלהים (Elohim) in Its Reputed Meaning of Rulers, Judges." Journal of Biblical Literature 54 (1935): 139–144. To my knowledge, no one has ever tried to rebut Gordon's article in a journal.
9 The best defense of this position is Michael Heiser, "You've Seen One Elohim, You've Seen Them All? A Critique of Mormonism's Use of Psalm 82," FARMS Review 19/1 (2007): 221–266.
For the complete series, please head over to the Decablog (https://thedecablog.wordpress.com/2015/03/09/non-biblical-literature-and-the-bible-overview-and-introduction-the-bible/).
Overview
When I was first asked to do this series, it's focus was to be only on Ancient Near Eastern Literature and the Bible. But then I started thinking. Because there is an aversion that many have not only to ANE stuff, but even to ancient books closer to the Christian home, perhaps something more basic and broad would be more helpful. So this is going to be a series of posts on non-biblical literature and how to think, well, "biblically" about it. It will focus on ancient literature, with individual posts given to the The_Good_The_Bad_and_The_UglyApocrypha, the Pseudepigrapha, other Second Temple Literature (Dead Sea Scrolls, Josephus and Philo, Mishna, Targums), the Apostolic Fathers, some of the Church Fathers, Gnostic Texts, Ancient Near Eastern Literature, and relevant Ancient World Literature. Don't know what a lot of this even is? Have no idea why you should care? Never fear. These posts you help give some answers. The final post (an annotated bibliography) to lead you to some good sources to help you begin your adventure. As this is a blog, we can only do the most basic of overviews. This is my attempt to whet your appetite to a whole world you never knew existed. And what an amazing world it is: The good, the bad, and the ugly!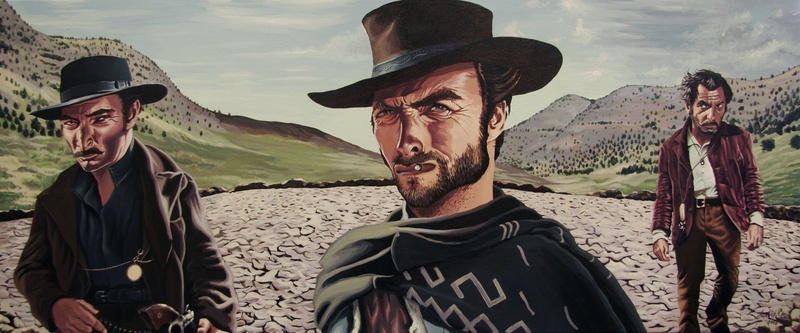 Introduction: The Bible
If we are going to talk about extra-biblical literature, we should probably begin by contrasting it to the Bible. This will give us a proper framework and grounding to proceed. What makes Holy Scripture unique? It is "Holy," not because some man or ecclesiastical body said so or because some mere angel communicated the words, but because it is God-breathed (2 Tim 3:16) by the Spirit of God (2 Pet 1:21). It is the word of truth (2 Tim 2:15) spoken by the Word of God (Jer 1:11; Heb 4:12).[1] "Scripture" comes from the Latin for scribe or writing. In this sense, almost any writing can be "scripture," but they would not "holy." So the Bible is a collection of books that make up the writings of God. Together, these two words show the uniqueness of the Bible among all other writings of history (be they religious or non-religious). For in the Bible, each text has two authors, with one being the Uncreated Creator of all other things.
Despite what Rob Bell recently told Oprah about the Bible being a bunch of 2,000 year old irrelevant letters that we need to stop quoting to contemporary people,[2] the Scripture is "profitable for teaching, for reproof, for correction, and for training in righteousness, that the man of God may be complete, equipped for every good work" (2 Tim 3:16-17). The Confessions of Faith summarize the Apostle's thought here as they begin, "The Holy Scripture is the only sufficient, certain, and infallible rule of all saving knowledge, faith, and obedience..." (LBC and WCF 1.1). But just here, we come to a vital point. Neither the Scripture nor the Confession teach that the Bible is the only useful or helpful book. Rather, the scope of Scripture is narrowly confined in the Confession to being the source and fully inspired presentation of that information we need to know to glory God, to be saved, and to live as righteous people.[3]
Obviously, the Bible touches on a lot of other topics. But its purpose is to reveal saving and sanctifying knowledge about the Triune God. So while it may give some helpful insights into somethings like healthy food, biology, or leadership, it is not a diet book, a science text book, or a coaching manual. To put that another way, we rightly read about having a healthy diet, trying to understand the world of quantum mechanics, or figuring out strategies that make good leaders in books other than the Bible. The Bible does not claim to be any of these things, and most people know implicitly that it is perfectly fine to go to books outside of the Bible to learn more about such things.
This is an important first insight to have when coming to think about the world of extra-biblical literature. For there are biases that some people have against such literature that they need not have if they just recognize a couple of things up front. First, they already read extra-biblical literature every day: a novel, a newspaper, a blog like this! Well, the ancient world had their own versions of all of these things too. So I'm not asking you to consider something you aren't already doing.
Second, almost none of the books we will look at in the ancient world—be they Christian, Jewish, or pagan make claims of themselves that they are Holy Scripture. Sure, a handful might, just as books like the Koran or the Book of Mormon (which isn't ancient at all) do today, but for the most part, even religious texts are not claiming to be Scripture in the sense we are talking about here. This point can be very helpful in overcoming deeply rooted feelings that somehow to read an ancient book other than the Bible is to commit a kind of spiritual adultery against God's word. No, it is no more right or wrong to read the Baal Cycle than it is to read Stephen Hawking (books about origins), to read Joseph and Aseneth than it is to read Pride and Prejudice (Romance novels), to read 1 Maccabees than it is to read Foxes Book of Martyrs (history books).
In the next post we will look at some apprehensions people have about this literature and suggestions for reading this material.
(by: Doug Van Dorn)
[1] For the Word of the Lord and the Person of Christ see my previous post here: https://thedecablog.wordpress.com/2014/08/22/christ-in-the-old-testament-part-vi/. The LBC summarizes this in 1.4 saying, "The authority of the Holy Scripture, for which it ought to be believed, dependeth not upon the testimony of any man or church, but wholly upon God (who is truth itself), the author thereof; therefore it is to be received because it is the Word of God."
[2] Here is Mr. Bell's statement along with some helpful commentary by R.C. Sproul Jr: http://www.cbn.com/cbnnews/us/2015/February/Rob-Bell-Suggests-Bible-Not-Relevant-to-Todays-Culture/, last accessed 2-25-2015.
[3] LBC 1.6 says, "for his own glory, man's salvation, faith and life."

Introduction (Part I)
I want to look at what I believe is the key to reading the Scriptures properly. It is the key because no matter what other grid Christians may use to make the Scriptures cohere (covenant, kingdom, divine council, dispensations, etc), this one was taught explicitly by the Lord Jesus himself as the one that leads us directly to eternal life. This makes our subject very important. It is also quite fitting for a supernatural blog, because the very idea that a Person could be somewhere before he is born is astonishing (more later in this post).
That key is to see the Second Person of the Trinity throughout the Old Testament. "You search the Scriptures because you think that in them you have eternal life," he told the Pharisees. But, "It is they that bear witness about me" (John 5:39). Yet, it is not enough to read the Scripture with him at the center. We must come to him because of it. He continues, "Yet you refuse to come to me that you may have life" (John 5:40). My hope and prayer is that as we travel down this road, you will be challenged anew to do as Jesus said. Come to him that you may have life.
The series will proceed as follows (links will be added here once they are all online). Part I: Introduction; Part II: The NT Passages and Reflections; Part III: Christ in Prophecy; Part IV: Christ in Typology; Part V: Christ in The Law; Part VI: Christ: The Word of God; Part VII: Christ: The Angel of the LORD; Part VIII: Christ: The Name of the LORD; Part IX: Christ: The Wisdom of God; Part X: Christ: The Son of God; Part XI: Christ: The Glory of God; Part XII: Christ: The Arm of the LORD; Part XIII: Conclusions.
The Emmaus Road
After the Resurrection, two disciples of Jesus were walking from Jerusalem to a small village called Emmaus. They were talking about reports of an incredible event that they did not believe. Some were saying that Jesus had actually risen from the grave. Suddenly, the Lord Jesus himself stood behind them. Prevented from recognizing who he was, he began to scold them for being so slow to believe. The basis? "'Was it not necessary that the Christ should suffer these things and enter into his glory?' And beginning with Moses and all the Prophets, he interpreted to them in all the Scriptures the things concerning himself" (Luke 24:26-27).
The word "interpreted" here is diermeneuo. We derive the English word "hermeneutics" from this. Hermeneutics is the art and science of biblical interpretation. In other words, the explicitly taught hermeneutic from the Lord himself was to see him in the OT. This is such an important idea for Luke that he repeats it. "'These are my words that I spoke to you while I was still with you, that everything written about me in the Law of Moses and theProphets and the Psalms must be fulfilled.' Then he opened their minds to understand the Scriptures" (Luke 24:44-45). "Moses and all the Prophets" or "the Law of Moses and the Prophets and the Psalms" are two ways of saying "the whole Old Testament." Christ is found everywhere in the Old Testament.
But notice again the source of Jesus' consternation. They did not believe the Scriptures concerning him. "O foolish ones, and slow of heart to believe all that the prophets have spoken! Was it not necessary that the Christ should suffer these things and enter into his glory?" (Luke 24:25-26). To put this more bluntly, Jesus expected that they would read the Scriptures this way. It was not that canonically inspired Apostles were the only ones allowed to interpret the Old Testament with Jesus in mind, because to do so would be a dangerous speculative undertaking for anyone else to attempt, but his expectation was that all of his disciples would have learned by now to read it this way, even as Simeon and Anna had done at his birth when they alluded to Isaiah 8:14-15, 28:16, and 52:8-10 respectively in their blessings of the Christ child (see Luke 2:34, 38).
In the next installment, we will look at several places where the New Testament has just this kind of interpretation.